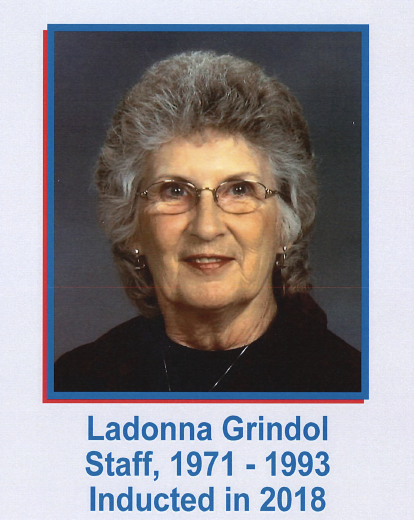 Mrs. Ladonna Grindol served as a longtime member of our food service department. She worked with Shawnee Heights from 1971-1993. During her twenty-two years in school food service, Mrs. Grindol began on the serving line and finally retired as the food service manager. Mrs. Grindol often worked beyond the school day and spent evenings catering special dinner events within the school district.
Mrs. Grindol, an active member of the National School Nutrition Association, also gained membership in the State School Nutrition Association and the local chapter of school nutrition in Shawnee County. She was responsible for planning many annual conferences and workshops, as well as a co-founder of the hot lunch program at State Street Elementary in Topeka in 1968.
Her service to others has continued outside of retirement. She volunteers with Icare, a poverty-based program providing care packages for those in need, organizes and cooks for church bazaars, teaches Sunday School, and spends extra time with those who need a little extra TLC. Her daughter describes her spirit as "a heart full of compassion" just like her mama, Edna. Mrs. Grindol and her husband have been recognized as volunteer of the year by Every Woman's Resource Center, and she has been featured in the Capital-Journal as Cook of the Week.
Mrs. Grindol remembers her time at Shawnee Heights as being full of wonderful people. She loved the students, the ornery ones, the lovable ones, she loved them all. Mrs. Grindol enjoyed meeting and observing teachers share their love of education. The administrators throughout the years were such a positive influence. I love people this career was made for me.
Her dedication to the staff and students of Shawnee Heights and her outreach to those in the community exemplify a true spirit of giving.