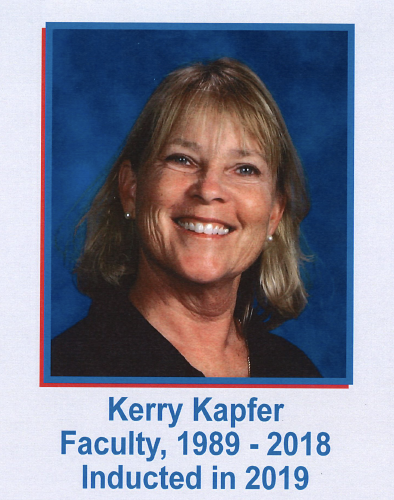 Mrs. Kapfer began her teaching career in the Auburn-Washburn School District in 1976. After four years there and one year at Perry Middle School, Mrs. Kapfer accepted a teaching position at Shawnee Heights Middle School. She taught both 7th and 8th-grade science at the middle school from 1981 through 1989 before transferring to the high school, where she continued teaching in the science department until her retirement in 2018.
During her time in the classroom, Mrs. Kapfer served on the school site council, participated in the NASA Teacher in Space Program, and was an active member of the National Science Teachers Association. She earned the Master Teacher Award several times and was nominated numerous times by students for the Most Inspirational Teacher, winning the award on multiple occasions.
Mrs. Kapfer's impact on students is immeasurable. Her influence as a teacher and a coach will stretch for generations as many of those she impacted have followed in her footsteps. One of Mrs. Kapfer's colleagues writes, "Kerry Kapfer has been a great part of Shawnee Heights history. She has been an amazing teacher, coach, and colleague. By instilling curiosity and love of learning, she has had a great influence on students to pursue post-high school careers in science."
While the numbers only tell a small part of her story, Mrs. Kapfer enjoyed great success on the volleyball court. She was the volleyball captain as a senior at Lawrence High School in 1971, the first year for girls sports at LHS. Following high school, Mrs. Kapfer played volleyball at the University of Kansas, where she graduated with a Bachelor of Science Degree in Education in 1976.
Mrs. Kapfer coached volleyball for thirty-three years, including twenty-six years as the head coach at Shawnee Heights High School. Her teams qualified for state thirteen times, finishing in the top four nine times including back-to-back state titles in 1999 and 2000. In all, Mrs. Kapfer coached her team to over seven hundred wins. She was named an all-star coach three times and won multiple league and city coach-of-the-year awards. Mrs. Kapfer served as executive director of the Kansas Volleyball Association for nine years and spoke on numerous occasions at the coaching clinics. She is a member of the Kansas Volleyball Hall of Fame.